Apkalna Iveta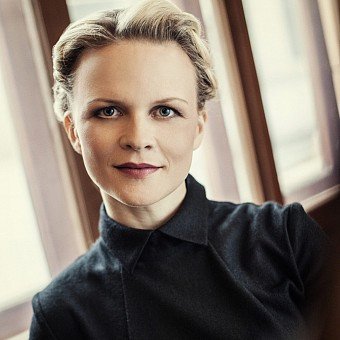 The Latvian pianist and organist, Iveta Apkalna, studied piano and organ at J. Vitols Latvian Academy of Music and continued her studies at the London Guildhall School of Music in England. She is the recipient of a grant from the German Academic Exchange Service, which allowed her to continue to further her performance skills at the Stuttgart Academy of Music and Fine Arts.

Over the past several years Iveta Apkalna has succeeded to "wipe off the dust" from the queen of all musical instruments and establish a new reputation for the organ. Through her compelling performances, technical brilliance and charismatic stage presence, she has managed to achieve a star status, a privilege usually reserved to conductors, singers, pianists and/or violin virtuosos.

As a soloist, Iveta Apkalna appears in concerts throughout the world, performing in prestigious concert halls from Vienna, Berlin, Hamburg, Leipzig, Cologne, Luzern, Luxemburg, Budapest to San Francisco or Moscow. She has appeared with some of the world's top orchestras including the Berliner Philharmoniker, Bayerischer Rundfunk Symphonieorchester, Radio-Symphonie-Orchester-Berlin, Hamburger Symphoniker, WDR Sinfonieorchester Köln, Kremerata Baltica and Latvian National Orchestra under the direction of renowned conductors such as Claudio Abbado, Mariss Jansons, Marek Janowski, Simone Young, Roman Kofman and Andriss Nelsons to name a few. A frequent guest at the leading festivals of Europe including Lockenhaus Festival, Bremen Music Festival, Halle Georg Friedrich Händel Festival, Ludwigsburg Castle Festival, Schwetzinger Festival, Schleswig-Holstein Festival, Iveta Apkalna made it her mission to bring the splendor of organ music beyond the church walls and into the concert halls.

In 2012, Iveta Apkalna was the artist in residence of the MDR Music Sommer Festival. Recent highlights include a recital at the Kennedy Center in Washington D.C. and performances at the Antwerp Cathedral and with the Cologne Philharmonic. In the 2014-2015 season, she performs with the Radio-Symphonie-Orchester-Berlin under Marek Janowski and with the Liege Philharmonic and Orchestre Philharmonique du Luxembourg among others. She will also appear in recital in Los Angeles, Atlanta and at the BOZAR Centre in Brussels among other cities.

Iveta Apkalna has gained international recognition in various prestigious competitions. She became the first organist ever to receive the title of "Best Performing Artist" given by the German Music Award ECHO Klassik in 2005. In 2008, the German/French TV network ARTE +7 broadcast a documentary about her entitled "Dancing with the Organ." In 2003 she was awarded the first prize and received four additional special prizes in the International M. Tariverdiev Organ Competition in Kaliningrad, Russia. In 2002, after winning the preliminary European rounds and advancing to the world finals of the Royal Bank Calgary International Organ Competition in Canada, she was awarded the prestigious Johann Sebastian Bach Prize. In 2003 she received the Latvian Great Music Award 2003 for special accomplishments in music.